Mentor: Aura Bălănescu
WEDNESDAYS, 13:00 – 16:00
July 1st, July 8th, July 15th and July 22nd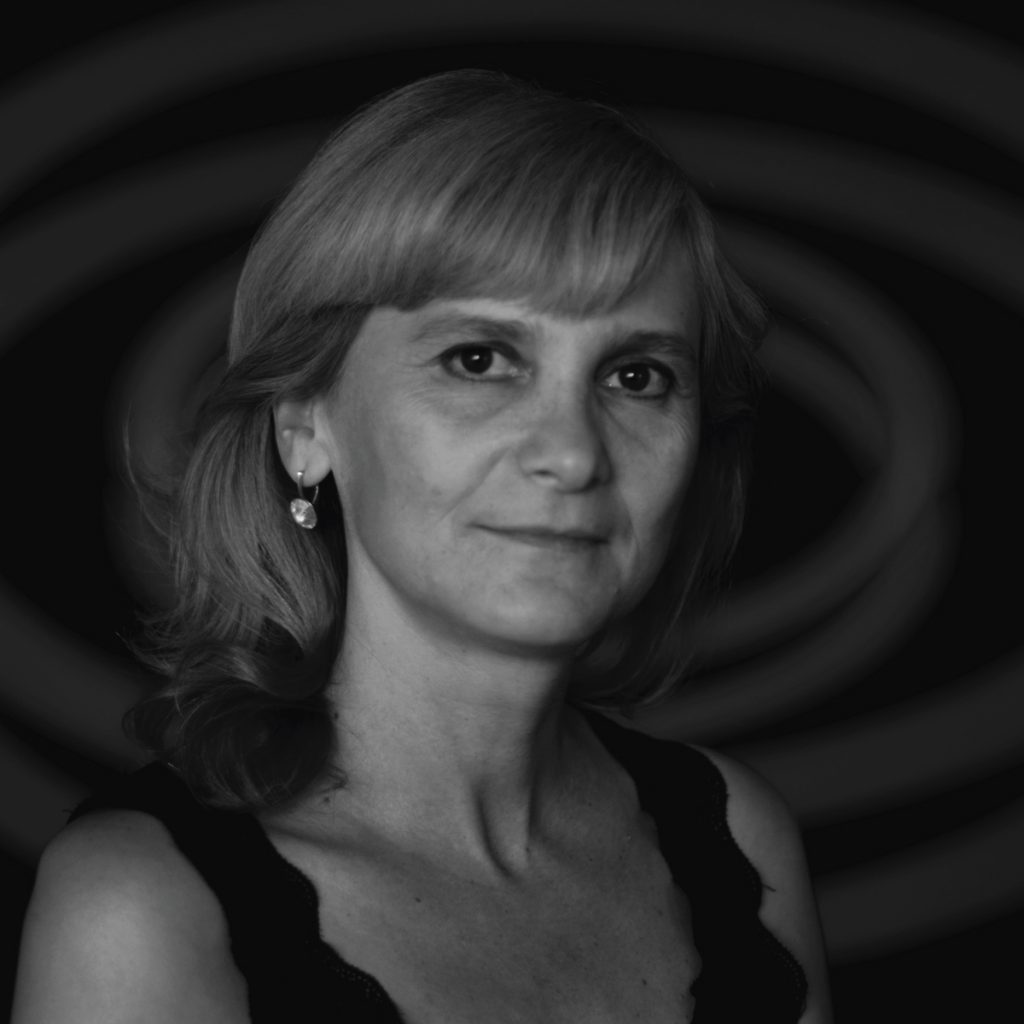 Given the current crisis, in which art in a classical sense seems to have lost ground, Aura Bălănescu's course proposes a rethinking of the artistic process through the critical lens of the the 20th century avant-garde artists, in order to observe / analyse / reveal the problems in our society (Les Levine, Art Can See, 1970) and to generate new fields of coexistence in a global ecology (Joseph Beuys, Social Sculpture, 1970). Therefore, the artist is no longer a maker of aesthetic objects and instead becomes an ecologist who oversees a macro-transformation of man and of reality in general. At the same time, in the context of telecommunications, the artist acquires the role of a design scientist that conveys the relationship between art, science and technology with versatility, to create a work that has a global impact and which allows continuous enrichment through the contribution of each and every one of us.
Participants will creatively experience all these concepts and practices in global art observatories generated on the ArcGIS interactive mapping platform, which has also been used to generate COVID-19 evolution maps in an almost aesthetic dimension. They will transpose their art on the time-space scale that encompasses the manifestation of society's problems in a so-called <critical art area>. This idea paraphrases one of the most anticipated contemporary art exhibitions, Critical Zones (ZKM Karlsruhe, July 24, 2020), where artists and scientists discuss issues of a social, political, economic and cultural nature, as well as the ethical and epistemological changes that could lead to solving the critical situation of planet Earth (Observatory of Earthly Politics).
Aura Bălănescu is known to the public for her interactive-immersive installations, which use various strategies for the participatory activation of the public are practiced through a perceptual extension induced by sensors and other digital devices. Through this technological augmentation, participants are offered the opportunity to contribute to the (pseudo)incorporation of the sculptural work and, last but not least, to its dispersal in a multimedia environment, generating a synaesthetic effect.
Her works have been presented in exhibitions and festivals, such as From Revolution to Revolutions, MultipleXity Timișoara (2019), In Vitro Veritas, Timișoara North Station (2019), Br41n.IO Hackathon, Ars Electronica Linz (2019), The Use of Man, Danube Dialogues Novisad (2018), Elektro Arts, Cluj (2018) and in international conferences, such as Zip-Scene Analogue & Digital Immersive Environments, MOME Budapest (2018), Light Edu Symposium, OAR (the Romanian Order of Architects) Timișoara (2018), Stereo & Immersive Media, Lusophone Lisbon (2018), RE: TRACE Media Art Histories, Krems (2017) and RE: NEW Media Art Histories, RIXC Riga (2013). In 2014, Aura Bălănescu co-founded the platform Avantpost, dedicated to local artists working at the confluence of art, science and technology, and in 2020 she launched the artist-run space MAAM / Media Art And More and the online platform Tehnoarte, designed as a highway of telematic art for the global dissemination of performative-collaborative multimedia content.
https://aurabalanescu.ro/
https://avantpost.ro/
https://tehnoarte.com/