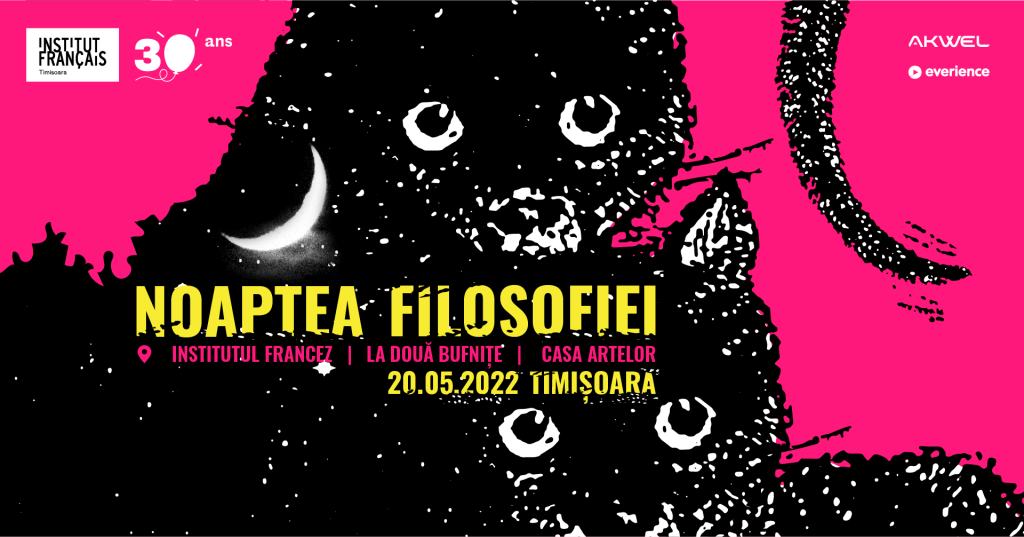 On 20 May 2022, Timișoara will host the second edition of the Night of Philosophy, an event that was initiated in our country by the French Institute Timișoara. Due to the success of the first edition, the second Night of Philosophy will be organised in three places of major importance to Timișoara's cultural life: The French Institute in Timișoara, La Două Bufnițe Bookshop and The House of Arts.
The 2022 edition, European through its themes and the invited speakers, will take place during the French Presidency of the Council of the European Union, and the main theme will be "(Re)Building together."
The project is a conceived as a philosophical and festive nocturnal event, whose purpose is to "show philosophy in a different light – at night." Therefore, with the extraordinary participation of philosophers and intellectuals from Romania, France, Germany, and Serbia, we will organise debates, conferences, screenings and performances through which we will approach timely themes that are of interest to present day society.
As cultural partners, Art Encounters Foundation and the Directorate for Culture of the Timiş County will organise a debate with Ruxandra Demetrescu, Diana Marincu and Cristian Nae.
Ruxandra Demetrescu (b. 1954), art historian, professor of art history and theory at the Department of Doctoral Studies of the National University of Arts in Bucharest, Romania, where she teaches art theory, museum studies and modern Romanian art. She was the Rector of the National University of Arts in Bucharest (2006–2012) and the first Director of the Romanian Cultural Institute in Berlin, Germany (1999–2003). Her research focuses are the history of art theories in German-speaking space (Konrad Fiedler, Alois Riegl, Aby Warburg, Walter Benjamin) and Romanian interwar artistic modernity. She held the Arnheim Professur at the Humboldt University in the fall of 2012. She coordinated research projects and curated solo shows of contemporary Romanian artists (CLOSED DOORS, OPEN ENVELOPES. Iosif Király – Early Works, 1975-2000, Museum of Contemporary Art Bucharest, April – September 2018). Published numerous texts in Romanian contemporary visual artists' exhibition catalogues.
Diana Marincu is a curator and art critic, Artistic Director of Art Encounters Foundation in Timișoara. Her recent exhibitions include: Invisible cities, imaginary lands (alongside Georgia Țidorescu & Glad Carpencu-Pop), Contrasens Cultural Association, Timișoara (2021)The Third Woman: actionism, performance, and attitudes (alongside Ami Barak & Georgia Țidorescu), Art Encounters Foundation, Timișoara (2021); I feel something, don't know what, Art Encounters Foundation, Timișoara (2021); Harun Farocki & Antje Ehmann, Reality Would Have to Begin, Art Encounters Foundation, Timișoara (2020); Persona, MUCEM, Marseille (2019); Manufacturing Nature / Naturalizing the Synthetic, Frac des Pays de la Loire (2018); Marianne Mispelaëre, Sounds Make Worlds, Art Encounters Foundation, Timișoara; Double Heads Matches (with Zsuzsanna Szegedy-Maszák), New Budapest Gallery (2018); Life – A User's Manual (with Ami Barak), Art Encounters Biennial Timișoara & Arad (2017); The White Dot and The Black Cube (a curatorial project in six parts co-curated with Anca Verona Mihuleț), MNAC Bucharest (2015-2017).
Cristian Nae is Ph.D. Associate Professor of Art Theory at George Enescu University of Arts, Iasi. He is currently member of the editorial board of Artmargins journal and writes art criticism on a regular basis for different contemporary art magazines such as IDEA, ARTA etc. He has been a NEC and Getty-NEC fellow of the Institute for Advanced Studies in Bucharest and has conducted a Patterns_Lectures grant on the topic of Politics of Identity in Eastern European Art since 1989 awarded by Erste Stiftung and WUS Austria for developing a new course at the University of Arts in Iasi. He is also a member of different professional associations such as College Arts Association in the USA and AICA. His most recent texts have been included in publications such as "Curating Eastern Europe and Beyond: Art Histories through the Exhibition" (ed. Maria Oriskova, Veda & Peter Lang Publishing, 2014).
The Night of Philosophy is organised by the French Institute in Romania.
With the support of: Akwel, Everience

Cultural partners: Timișoara 2023, La Două Bufnițe, The Directorate for Culture of the Timiș County, The Faculty of Arts and Design, UVT, The Faculty of Political Sciences, Philosophy and Communication Science, UVT, Art Encounters Foundation, The German Cultural Centre Timișoara, The Austrian Cultural Forum Bucharest
Media partners: RFI România, Radio România
Technical partners: FITT