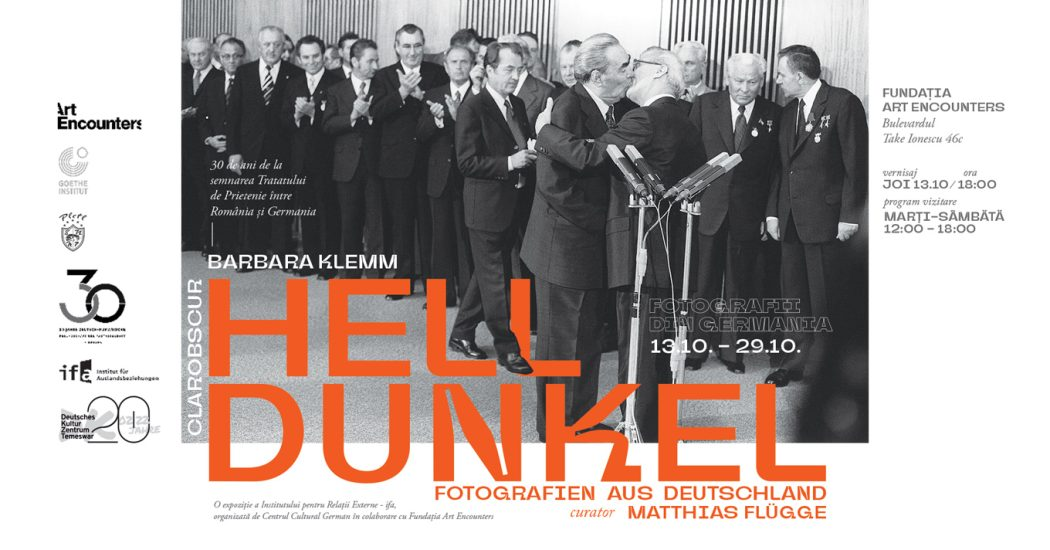 An exhibition of the Institute for External Relations – ifa, organized by the German Cultural Centre in collaboration with Art Encounters Foundation.
The exhibition is organized as part of the Jubilee "30 years since the signing of the Treaty of Friendship between Romania and Germany".
Curator: Matthias Flügge
Opening: Thursday October 10th 2022 // 18:00 // Art Encounters Foundation (Take Ionescu Boulevard, no. 46C), with the presence of the curator
Open: October 13th – October 29th 2022, Tuesday to Saturday between 12:00 and 18:00.
Barbara Klemm is one of the most remarkable chroniclers of Germany's recent past, and one of the most important German photographers. Already starting in the '60s, as a photo editor at Frankfurter Allgemeinen Zeritung, she's an observer of the politics and society of the German Federal Republic, as well as of the German Democratic Republic.
This monographic exhibition shows photos which were taken over a span of forty years. Barbara Klemm's artistic works are evidence of the historical evolution and of the present in a country which was divided for decades. Many of her photographs have become "symbols of contemporary history", and they mark the cultural memory of multiple generations. This is a photographic body of work which fuses research and artistic inspiration in a manner which is rarely encountered in German press, because Barbara Klemm adds her own perspective to the supposedly objective nature of a documentary, while also observing the compositional rules of art in her image compositions.
Although the majority of these photographs have been published in Frankfurter Allgemeinen Zeitung – for which Barbara Klemm had worked as a lab assistant and photographer since 1959, and as a photo editor specialized in politics and culture since 1970, they are much more than mere journalistic report photographs, taken for that day only. These guide us towards some of the most important aspects of social life in the German Federal Republic, German Democratic Republic and abroad. A central point of the exhibition are those photographs which were taken in East and West Germany before and after Reunification. These are images from all aspects of social, political, cultural and economic life, from precarious and quotidian situations of social reality, from demonstrations, protests and depicting immigrant life, as well as cultural events, mass gatherings and urban spaces. The artist Barbara Klemm always manages to show people in special and precious moments of them being disconnected from themselves.
Barbara Klemm never intends to put people in embarrassing situations, she doesn't seek thrills. Rather, her photographs reflect a great capacity for empathy, combined with the rules of fairness and discretion towards the person being represented. This approach allows Barbara Klemm to create an image of history which doesn't target showmanship, but rather the effect that the respective event has on the people involved.
The exhibition will show 25 photographs which were taken by Barbara Klem in Romania, in 1972, 1973 and 1992.