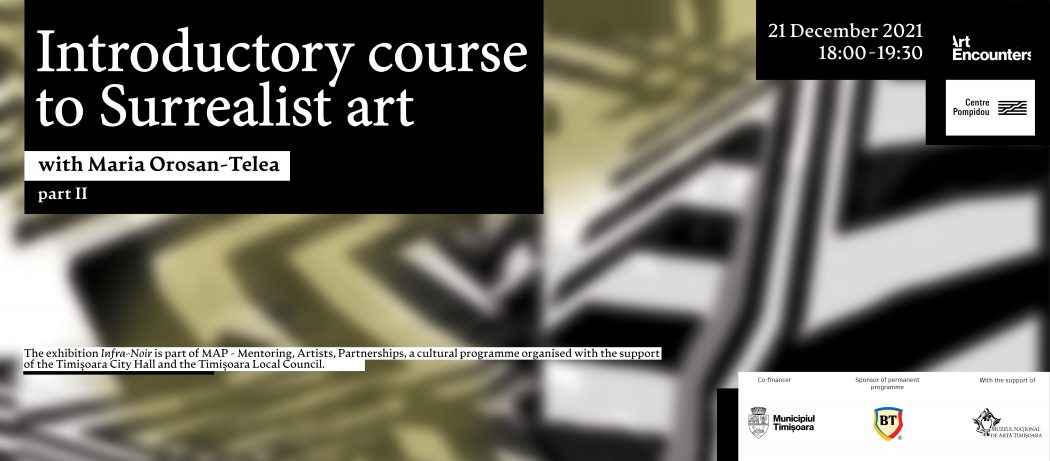 The exhibition Infra-Noir represents a good opportunity to find out more about one of the most fascinating art movements of the 20th century, through two introductory courses to contemporary art with Maria Orosan-Telea.

If the first meeting focused on the beginnings Surrealism, the second course will debate Romanian Surrealism in the wider context of the evolution of this movement during the 1940s.

Maria Orosan-Telea is a lecturer at the Faculty of Arts and Design in Timișoara. She trained in art history and theory at Babeș-Bolyai University in Cluj-Napoca. She has been concerned with contemporary art since her doctoral studies, when she carried out research on Romanian art in the post-communist period. Her collaboration with the Art Encounters Foundation began in 2017 with the publication of the book Art Guide. Introduction to Romanian Contemporary Art. As a curator she has carried out a series of projects in collaboration with Avantpost group, and in 2018 she founded the curatorial program DRAFT. In 2019-2021 she was an assistant in the project "Gender Politics and the Art of European Socialist States" initiated by Adam Mickiewicz University in Poznań.
---
Organised in collaboration with Centre Pompidou Paris, the exhibition brings together works from the collections of Centre Pompidou Paris, as well as from private collections.
Curated by Mica Gherghescu, the exhibition revolves around the Infra-Noir group and its members, Ghérasim Luca, Gellu Naum, Paul Păun, D. Trost and Virgil Teodorescu. Between 1945 and 1947, through their activity in Bucharest, Romania, the five artists assimilated and built upon the international Surrealist inheritance, creating a series of profoundly experimental artworks and publications that drew the attention of important Surrealist personalities, among whom André Breton. Infra-Noir will also highlight key moments in the history of Romanian Surrealism by exploring pivotal works in the history of the movement. At the same time, it will examine the nuances and eclecticism that resulted from the hybrid import of Surrealism grafted on the local artistic ecosystem.
---
Infra-Noir: Anatomies of desire, metamorphoses of the image
Artists: Aurel Bauh, Théodore Brauner, Victor Brauner, André Breton, Jean David, Benjamin Fondane, Jacques Hérold, Ghérasim Luca, Gellu Naum, Constantin Nisipeanu, Paul Păun, Hedda Sterne, Virgil Teodorescu, D. Trost
Curator: Mica Gherghescu
Dates: 12 November 2021 – 3 January 2022
Exhibition opening hours: Tuesday to Sunday, 12 PM to 6 PM
Location: Art Encounters Foundation, 46C Take Ionescu Blvd., Timișoara, 300 124
---
Infra-Noir is organised by Art Encounters Foundation in collaboration with Centre Pompidou Paris.
The exhibition is part of MAP – Mentoring, Artists, Partnerships, a cultural programme organised with the support of the Timișoara City Hall and the Timișoara Local Council.

Co-financers: The Timișoara City Hall, The Timișoara Local Council

Sponsor of permanent programme: Banca Transilvania

With the support of: The Timișoara National Art Museum
Media partners: Radio România Cultural, RFI România, Radio Guerrilla, TVR Timișoara, Observator Cultural, Revista Arta, Zeppelin, The Institute, Modernism, Propagarta, StudentFest
Sponsors: Thesaurus Wines, illy, Melbo Instal, Agasi