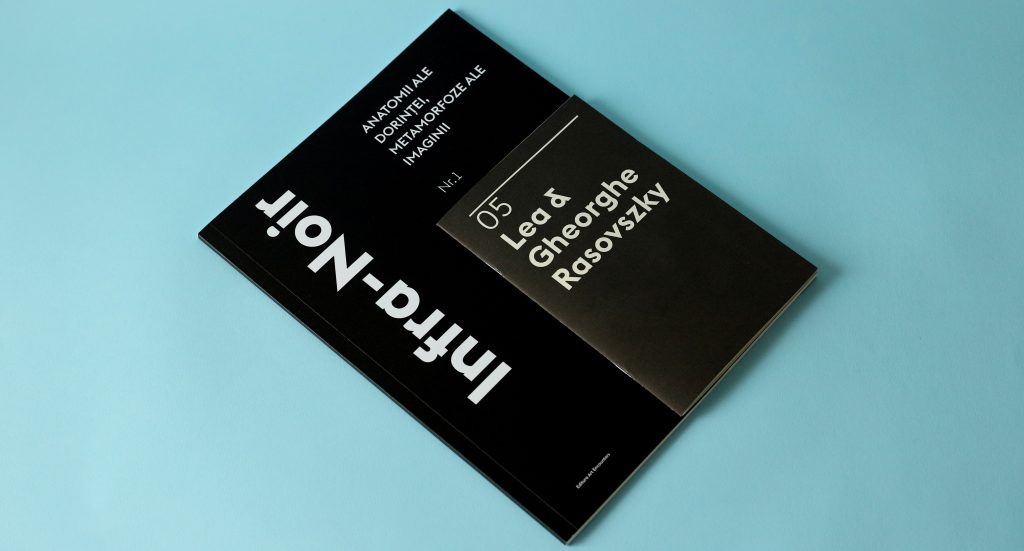 The Art Encounters Foundation launches the first issue of Infra-Noir. The magazine-like publication, created in conjunction with the exhibition Infra-Noir. Anatomies of desire, metamorphoses of the image, features texts commissioned for this occasion, written by Catherine Hansen and Mica Gherghescu, and contains a wealth of images – drawings by Paul Păun and collages by Adrian Ghenie, reproductions after a typescript by D. Trost, as well as a surprise insert: the first artistic collaboration between Lea and Gheorghe Rasovszky!
This launch will take place exclusively online and will be trilingual, in the spirit of the magazine: the first part of the event will include a discussion in Romanian, the second part will contain a short reading in French, and the third will consist of a dialogue in English.
Special guests: Lea Rasovszky, one of the publication's guest artists, and Catherine Hansen, the publication's guest author, writer and researcher of avant-garde movements
Moderators: Diana Marincu and Mica Gherghescu, editors of the publication
The event's schedule is as follows:
19.00 – 19.15: Introduction by Diana Marincu and Mica Gherghescu
19.15 – 19.30: Presentation of the interactive insert created by Lea & Gheorghe Rasovszky
19.30 – 19.45: Reading session in Romanian and French
19.45 – 20.00: Q&A session
20.00 – 20.30: Discussion in English with Catherine Hansen
The exhibition and publication have benefited from the trust and involvement of our numerous collaborators and supporters. Our deepest gratitude goes to the National Museum for Modern Art – Centre Pompidou, to its director Bernard Blistène, and to his team: Brigitte Léal, Raphaële Bianchi, Christian Briend, Florian Ebner, Jonas Storsve, Nicolas Liucci-Goutnikov, Didier Schulmann, Nathalie Cissé, Sennen Codjo, Noëlle Albert-Loisel, Manon Sarda, Carole Hubert, Jean-Gabriel Massardier and Robin Lety.

We would like to thank Ovidiu Șandor, Alexandru Solomon, Catherine Hansen, Lea and Gheorghe Rasovszky, Adrian Ghenie, Mihai Pop, Harry Jancovici, Monique Yaari and Ami Barak for their active involvement.

This publication was made possible through the support of the Timișoara Municipality, the Timișoara Local Council, the Culture House of the Municipality of Timișoara, the Timișoara – European Capital of Culture Association and the French Institute in Timișoara.