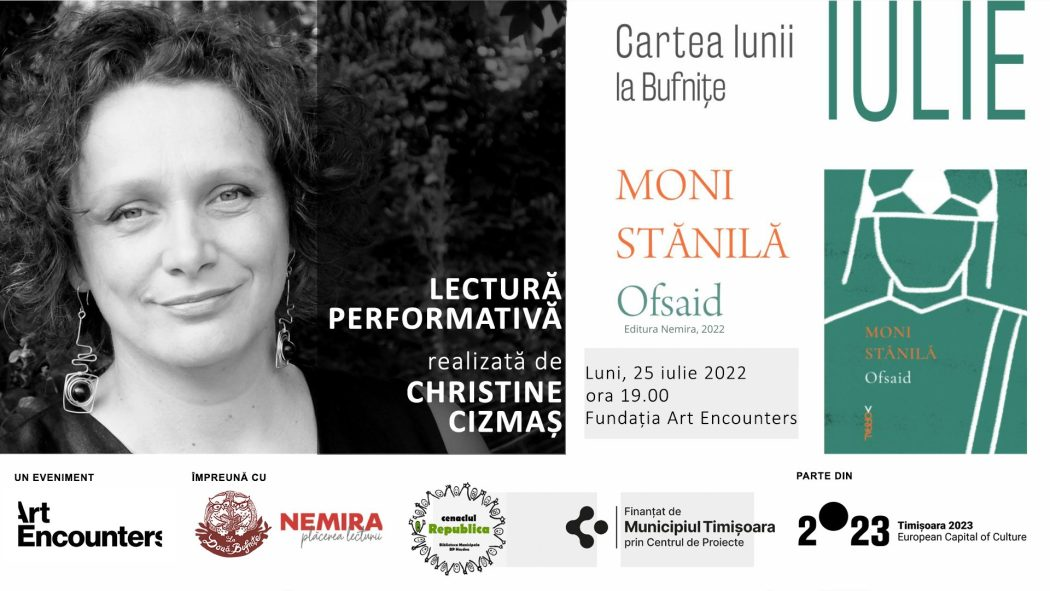 We await your presence on Monday, July 25th 2022, at 19:00, at the Art Encounters Foundation on 46C Take Ionescu Boulevard in Timișoara, where the exhibition space becomes the stage for a performative reading at the threshold between theatre, literature and visual arts.
Conceived as an episode in a series of interdisciplinary experiments, this event proposes a different, personal, temporal and spatial incursion into the poetic universe of Moni Stănilă, from her most recent volume, OFSAID, published by Nemira Publishing House in the Vorpal collection, which will be launched in Timișoara, Saturday the 23rd of July, at the Două Bufnițe Bookstore. The performative reading will be undertaken by actress Christine Cizmaș, with the participation of author Moni Stănilă.
The event is organized by Art Encounters Foundation in partnership with Două Bufnițe Bookstore and its partners: the Republica Cenacle and Nemira Publishing House.
The event is co-financed by the Centre for Project of the City of Timișoara.