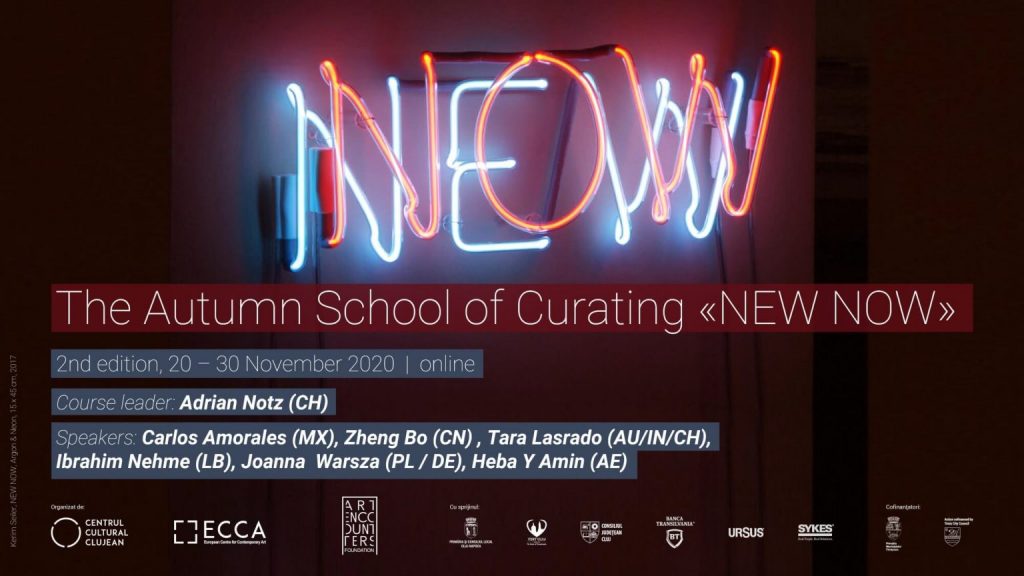 The Autumn School of Curating 2nd edition NEW NOW | online
Course leader: Adrian Notz (CH)
ECCA – The European Centre for Contemporary Art Cluj-Napoca and Art Encounters Foundation Timișoara are looking for participants for the second edition of The Autumn School of Curating, taking place online between November 20 – 30, 2020.
Organised by Art Encounters Foundation together with Cluj Cultural Centre, the Autumn School of Curating aims to give young artists and curators access to an international platform for dialogue, knowledge exchange and learning. The partnership developed by the two organisations dedicated to contemporary art proposes a collaborative model meant to develop and consolidate a professional active network in the sphere of contemporary culture in Cluj and Timișoara.
The «NEW NOW» Autumn School of Curating is an engaging ten-day online seminar led by curator Adrian Notz, aiming to give young curators access to an international platform for dialogue, knowledge exchange and learning. Over the course of ten days, the participants will engage in conversation with artists and curators from around the world, who will offer insights on past and present best practices and share methods of presenting and communicating ideas and research topics, as well as possible solutions to problems faced by the art world today, hoping to answer a simple yet urgent question: Where and how can we / art engage?
The courses will tackle the disputed topics that drive contemporary discourse in art, activism and beyond, and attempt to offer a starting point for building a strategy and a vision on what is to be done now and in the future.
---
«NEW NOW» is the naïve and romantic idea of creating a collective movement full of pathos, aimed at addressing the urgent topics of society nowadays, which is longing for an intimate and gentle healing of individual personalities, but also of our social being as such.
Invited speakers for the Autumn school of curating:
Carlos Amorales (MX)
Tara Lasrado (AU)
Ibrahim Nehme (LB)
Joanna Warsza (PL / DE)
Heba Y Amin (AE)
Adrian Notz (b. 1977 in Zurich) is a freelance curator, curator at the Tichy Ocean Foundation, King of Elgaland-Vargaland and Chevalier de la Tombe de Bakunin. From 2012-2019 he was Director of Cabaret Voltaire in Zurich. He worked there first as a curatorial assistant from 2004 and from 2006 to 2012 as Co-director. From 2010 to 2015 he was Head of the Department for Fine Arts at the School of Design in St. Gallen. Since 2007, Notz has been a diplomat of NSK State and from 2008-2018 he was Ambassador of the Kingdoms of Elgaland-Vargaland for Zurich. Notz has organized numerous exhibitions, events and actions with international artists, activists and thinkers. He is currently researching a personal theory he calls «End of Future», fed by his nostalgic approach to the avant-garde.
Art Encounters Foundation is an independent cultural initiative, founded in 2015, oriented towards supporting the contemporary art scene in Romania. The Foundation's activities follow three main directions: organizing the Art Encounters Biennial and the permanent exhibitions program, fostering education and audience development through public programs and developing a solid series of artistic and curatorial residencies.
ECCA is the future European Centre for Contemporary Art in Cluj-Napoca, dedicated to researching and promoting artistic processes and works in the fields of visual arts, performing arts and media arts. The project commits to accompany all segments of the public in a journey dedicated to critically exploring and actively involving the contemporary art practice as a model of knowledge production. ECCA is part of Cluj Cultural Center, a non-governmental organization for culture and sustainable development, which believes that culture makes cities present and human. Their mission is to mobilize culture for social transformation and sustainable development.
---
TARGET PARTICIPANTS:
Young professionals in the field of curating and writing, with at least 3 years of experience in the field

REGISTRATION PERIOD:
September 23 – October 31, 2020
The selected participants will be announced by November 9, 2020
The «NEW NOW» Autumn School of Curating is free of charge and open to international candidates. The courses will be held in English. Availability for the entire course is required. For any inquiries about the program, please write to us at school.curating@gmail.com
---
Organisers: Art Encounters Foundation and Cluj Cultural Centre, through the program ECCA (The European Centre for Contemporary Art)
Co-financers: Timișoara City Hall, Timișoara House of Culture
Action co-financed by Timiș County Council
With the kind support of Cluj-Napoca City Hall, Cluj-Napoca City Council and Cluj County Council
Partner: Banca Transilvania