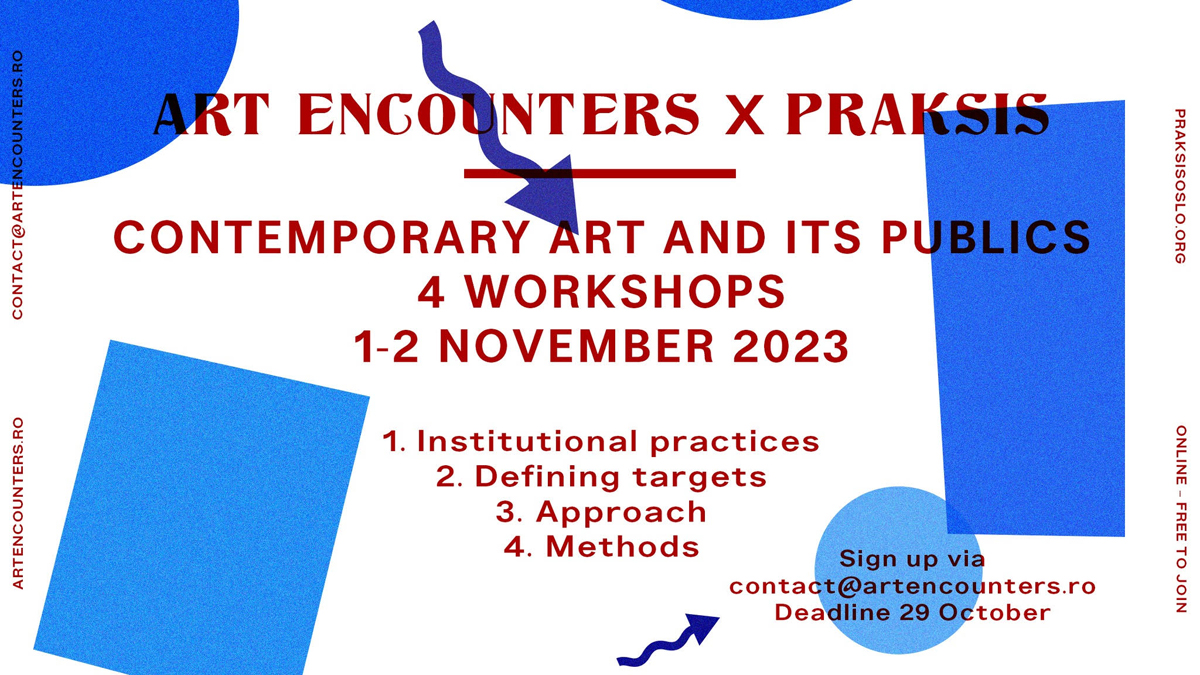 PRAKSIS and the Art Encounters Foundation invite you to engage in four workshops over two days led by Nicholas John Jones, artistic director of PRAKSIS, and Kristian Schrøder, programme manager at PRAKSIS. 📣

These workshops aim to generate dialogue between art students, artists, cultural mediators, and thinkers at all career stages and across diverse cultures, disciplines, and publics. Through exercises in mapping the scenes in Romania and Norway, the workshops foreground collective activity and exchanging ideas, skills, and information. The resulting maps will be included in a handbook – with acknowledgment of all contributors, of course!

🆓 𝗧𝗵𝗲 workshops are 𝗳𝗿𝗲𝗲 𝗼𝗳 𝗰𝗵𝗮𝗿𝗴𝗲 𝗮𝗻𝗱 𝗼𝗽𝗲𝗻 𝘁𝗼 national and 𝗶𝗻𝘁𝗲𝗿𝗻𝗮𝘁𝗶𝗼𝗻𝗮𝗹 𝗰𝗮𝗻𝗱𝗶𝗱𝗮𝘁𝗲𝘀.

❗❗❗They will take place online, in English, between 𝐍𝐨𝐯𝐞𝐦𝐛𝐞𝐫 1-2, 𝟐𝟎𝟐𝟑, including several working sessions. Those interested can register for one, several, or all of the following sessions:

📍Day 1, November 1, 2023 – Online, 10:00 – 12:00 CEST and 11:00 – 13:00 EEST (RO time)

💬Your say on the contemporary art field (Overview of institutional practices)
What do you love about the arts field? Are there things about it that really irritate you? What do you consider necessary to building relationships between art and its publics? What issues does the field need to address, and what do the institutions you visit do well?
The workshop aims to develop an overview of institutional practices across the sector and collectively identify progressive ways of working.
📍Day 1, November 1, 2023 – Online, 13:00 – 15:00 CEST and 14:00 – 16:00 EEST (RO time)

💬Which conversations should arts institutions be part of? (Defining targets)
PRAKSIS and Art Encounters welcome you to a workshop outlining what you want arts institutions to do. We will discuss what grassroots, small-and-medium-sized organisations and large-scale institutions offer. How do they feel when we visit? Who do we think they are targeting, and who would we like them to address?
📍Day 2, November 2, 2023 – Online, 10:00 – 12:00 CEST and 11:00 – 13:00 EEST (RO time)

💬What to ask when reaching out? (approach)
What should contemporary art organisers consider when curating, communicating, or creating educational programming? Can we identify a series of questions that help establish good practice? This workshop will begin with an open discussion about creating relationships between contemporary art and the public while aiming to collectively develop a series of questions as guidelines for those thinking about building relationships between art and the publics.
📍Day 2, November 2, 2023 – Online, 13:00 – 15:00 CEST and 14:00 – 16:00 EEST (RO time)

💬How should we reach out? (methods)
This workshop aims to map existing good practices for working between art and the publics and propose innovative ways of reaching new audiences.
📣 How to apply? 📣
To apply, please send a short biographical narrative in English, starting with your interest in the workshop's main topics, by October 29 at the following e-mail address: contact@artencounters.ro
---
ℹ️ Established in 2015, PRAKSIS is a non-profit centre for art, research, and learning in Oslo. PRAKSIS's programs foreground collective activity and the exchange of ideas, skills, and information, generating a dialogue between artists, thinkers, and organisations locally and internationally, at all career stages, and across diverse cultures and disciplines. PRAKSIS collaborates with partners to place its activities within the broadest possible contexts. Since its founding in 2015, it has worked with over sixty partners ranging from national museums, universities, and leading art centres to wrestling clubs. Its core activities include: Organizing and running artists' residencies; Staging public events; Youth programming; Online and in-print publishing;
Established in 2015, the Art Encounters Foundation aims to deliver an institutional model tailored to the needs of the local context and which is equally engaged in contributing to the international art scene. Founded by art collector and entrepreneur based in Timișoara Ovidiu Șandor, the Art Encounters Foundation is an initiative aiming to enrich and support the development of the contemporary art scene in Romania. Its core mission is to foster dialogue, learning, research, and experiment. The Foundation's activities are carried out over the following main directions: organizing the Art Encounters Biennial in Timișoara and the exhibition program taking place at its permanent space in Timișoara or other sites; fostering education and audience development through public programs; developing a solid series of artistic and curatorial residencies. In conjunction with the permanent programs of the Foundation, the private art collection of Ovidiu Șandor, president of the Art Encounters Foundation, functions as an open resource for exhibitions, institutional collaboration, and research.
---
🙏 The project "Intersections – Art, Knowledge and Society" benefits from a grant for 63. 010 euro from Iceland, Liechtenstein, and Norway through the EEA and the Norwegian Funds.