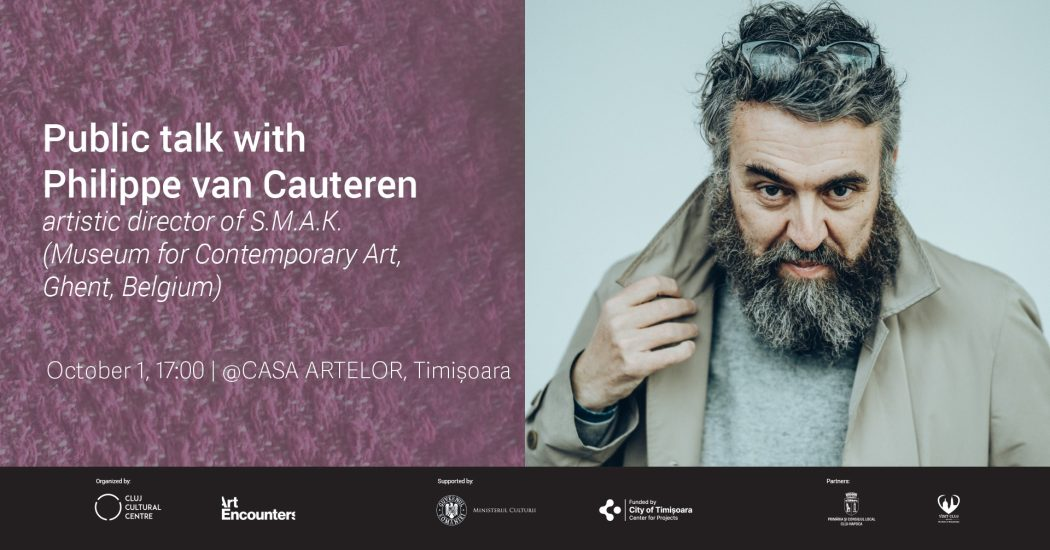 𝐎𝐧 𝐌𝐨𝐧𝐝𝐚𝐲, 𝐒𝐞𝐩𝐭𝐞𝐦𝐛𝐞𝐫 𝟐𝟔, 𝐚𝐭 𝟏𝟗:𝟎𝟎, we open The Autumn School of Curating with a public talk built around the topic of synchronicity and how it determines new ways of thinking about the world's events and challenges.
Our 𝐬𝐩𝐞𝐜𝐢𝐚𝐥 𝐠𝐮𝐞𝐬𝐭 is curator Philippe Van Cauteren (artistic director of S.M.A.K. Ghent), who is also the leader of this year's edition of TASoC.
𝐀𝐁𝐎𝐔𝐓 𝐏𝐇𝐈𝐋𝐈𝐏𝐏𝐄 𝐕𝐀𝐍 𝐂𝐀𝐔𝐓𝐄𝐑𝐄𝐍
He is the artistic director of S.M.A.K. (Museum for Contemporary Art, Ghent, Belgium). He studied sociology and art history at the University of Ghent. For the 55th edition of the Venice Biennale, he co-curated the exhibition 'Cripplewood' with the work of Berlinde De Bruyckere for the Belgian Pavilion. In 2015 the Ruya Foundation commissioned him to curate the Iraqi Pavilion for the 56th Venice Biennale. At the invitation of the Siddartha Arts Foundation, he curated the exhibition 'My City, My Studio / My City, My Life' for the Kathmandu Triennial in 2017. In the same year, he made an exhibition with a selection from the Barjeel Art Collection for the Institut du Monde Arabe in Paris. Philippe Van Cauteren published the book 𝑳𝒆𝒕𝒕𝒆𝒓𝒔 𝒕𝒐 𝑨𝒓𝒕𝒊𝒔𝒕𝒔 – a compilation of letters he has been writing to artists for the past 15 years.
𝐀𝐑𝐆𝐔𝐌𝐄𝐍𝐓
𝑀𝑜𝑟𝑒 𝑡ℎ𝑎𝑛 𝑒𝑣𝑒𝑟 𝑜𝑛𝑒 𝑐𝑎𝑛 𝑠𝑒𝑛𝑠𝑒 𝑡ℎ𝑎𝑡 𝑡ℎ𝑒 𝑤𝑜𝑟𝑙𝑑 𝑎𝑛𝑑 𝑡ℎ𝑒 𝑎𝑟𝑡 𝑤𝑜𝑟𝑙𝑑 𝑎𝑟𝑒 𝑖𝑛 𝑒𝑛𝑜𝑟𝑚𝑜𝑢𝑠 𝑓𝑙𝑢𝑥. 𝑊𝑒 𝑠𝑒𝑒𝑚 𝑡𝑜 𝑙𝑒𝑎𝑣𝑒 𝑡ℎ𝑒 𝑝𝑎𝑠𝑡 ℎ𝑖𝑠𝑡𝑜𝑟𝑖𝑒𝑠 𝑏𝑒ℎ𝑖𝑛𝑑 𝑖𝑛 𝑜𝑟𝑑𝑒𝑟 𝑡𝑜 𝑐𝑜𝑛𝑠𝑡𝑟𝑢𝑐𝑡 𝑡ℎ𝑒 𝑝𝑎𝑠𝑡 𝑜𝑓 𝑡ℎ𝑒 𝑓𝑢𝑡𝑢𝑟𝑒 𝑡𝑜 𝑐𝑜𝑚𝑒. 𝑇ℎ𝑒 𝑠𝑦𝑛𝑐ℎ𝑟𝑜𝑛𝑖𝑐𝑖𝑡𝑦 𝑜𝑓 𝑒𝑣𝑒𝑛𝑡𝑠 𝑎𝑛𝑑 𝑝𝑟𝑜𝑏𝑙𝑒𝑚𝑠 𝑤𝑖𝑡ℎ 𝑤ℎ𝑖𝑐ℎ 𝑜𝑛𝑒 𝑖𝑠 𝑠𝑢𝑝𝑝𝑜𝑠𝑒𝑑𝑙𝑦 𝑑𝑖𝑟𝑒𝑐𝑡𝑙𝑦 𝑜𝑟 𝑖𝑛𝑑𝑖𝑟𝑒𝑐𝑡𝑙𝑦 𝑓𝑎𝑐𝑒𝑑 𝑎𝑠𝑘𝑠 𝑓𝑜𝑟 𝑎 𝑑𝑖𝑓𝑓𝑒𝑟𝑒𝑛𝑡 𝑚𝑜𝑑𝑒 𝑜𝑓 𝑎𝑐𝑡𝑖𝑛𝑔 𝑎𝑛𝑑 𝑡ℎ𝑖𝑛𝑘𝑖𝑛𝑔. 𝐴𝑛𝑑 𝑖𝑡 𝑚𝑎𝑡𝑡𝑒𝑟𝑠 𝑤ℎ𝑖𝑐ℎ 𝑖𝑑𝑒𝑎𝑠 𝑤𝑒 𝑡ℎ𝑖𝑛𝑘 𝑜𝑓 𝑖𝑛 𝑜𝑟𝑑𝑒𝑟 𝑡𝑜 𝑡ℎ𝑖𝑛𝑘 𝑜𝑓 𝑜𝑡ℎ𝑒𝑟 𝑖𝑑𝑒𝑎𝑠. 𝑇ℎ𝑒 4𝑡ℎ 𝐴𝑢𝑡𝑢𝑚𝑛 𝑆𝑐ℎ𝑜𝑜𝑙 𝑜𝑓 𝐶𝑢𝑟𝑎𝑡𝑖𝑛𝑔 𝑤𝑖𝑙𝑙 𝑏𝑒 𝑎 𝑐𝑜𝑙𝑙𝑒𝑐𝑡𝑖𝑣𝑒 𝑒𝑥𝑝𝑒𝑟𝑖𝑒𝑛𝑐𝑒, 𝑜𝑛𝑒 𝑖𝑛 𝑤ℎ𝑖𝑐ℎ 𝑒𝑣𝑒𝑟𝑦 𝑝𝑎𝑟𝑡𝑖𝑐𝑖𝑝𝑎𝑛𝑡 𝑡𝑎𝑘𝑒𝑠 𝑝𝑎𝑟𝑡 𝑖𝑛 𝑜𝑟𝑑𝑒𝑟 𝑡𝑜 𝑚𝑎𝑘𝑒 𝑡ℎ𝑖𝑠 𝑒𝑛𝑐𝑜𝑢𝑛𝑡𝑒𝑟 𝑎 𝑡𝑎𝑛𝑔𝑖𝑏𝑙𝑒 𝑒𝑣𝑒𝑛𝑡. 𝑇ℎ𝑟𝑜𝑢𝑔ℎ 𝑡𝑎𝑙𝑘𝑠 𝑎𝑛𝑑 𝑑𝑖𝑠𝑐𝑢𝑠𝑠𝑖𝑜𝑛𝑠, 𝑤𝑒'𝑙𝑙 𝑐𝑜𝑛𝑠𝑡𝑟𝑢𝑐𝑡 𝑡ℎ𝑒 𝑚𝑎𝑛𝑖𝑓𝑒𝑠𝑡𝑜 𝑜𝑓 𝑠𝑦𝑛𝑐ℎ𝑟𝑜𝑛𝑖𝑐𝑖𝑡𝑦, 𝑎 𝑡𝑜𝑜𝑙 𝑓𝑜𝑟 𝑎𝑐𝑡𝑖𝑜𝑛, 𝑎 𝑓𝑖𝑟𝑠𝑡 𝑐ℎ𝑎𝑝𝑡𝑒𝑟 𝑓𝑜𝑟 𝑑𝑖𝑓𝑓𝑒𝑟𝑒𝑛𝑡 (𝑝𝑙𝑢𝑟𝑎𝑙) 𝑤𝑎𝑦𝑠 𝑜𝑓 𝑡ℎ𝑖𝑛𝑘𝑖𝑛𝑔. 𝑇ℎ𝑒 𝑚𝑎𝑛𝑖𝑓𝑒𝑠𝑡𝑜 𝑜𝑓 𝑠𝑦𝑛𝑐ℎ𝑟𝑜𝑛𝑖𝑐𝑖𝑡𝑦 𝑐𝑜𝑢𝑙𝑑 𝑏𝑒 𝑎 𝑐𝑎𝑡𝑎𝑙𝑜𝑔 𝑜𝑓 𝑎𝑛 𝑒𝑥ℎ𝑖𝑏𝑖𝑡𝑖𝑜𝑛 𝑡𝑜 𝑐𝑜𝑚𝑒, 𝑎 𝑔𝑢𝑖𝑑𝑒𝑙𝑖𝑛𝑒, 𝑎 𝑝𝑜𝑒𝑚, 𝑎𝑛 𝑖𝑛𝑠𝑡𝑟𝑢𝑐𝑡𝑖𝑜𝑛,….𝑎 𝑡𝑜𝑜𝑙 𝑓𝑜𝑟 𝑓𝑢𝑡𝑢𝑟𝑒 𝑢𝑠𝑒. – Philippe van Cauteren
𝐏𝐚𝐫𝐭𝐢𝐜𝐢𝐩𝐚𝐭𝐢𝐨𝐧 𝐢𝐬 𝐟𝐫𝐞𝐞 𝐨𝐟 𝐜𝐡𝐚𝐫𝐠𝐞.
𝐓𝐡𝐞 𝐞𝐯𝐞𝐧𝐭 𝐰𝐢𝐥𝐥 𝐛𝐞 𝐡𝐞𝐥𝐝 𝐢𝐧 𝐄𝐧𝐠𝐥𝐢𝐬𝐡.
Learn more about this year's topic and previous editions here
https://ecca.ro/the-autumn-school-of-curating-4th-edition/.
𝑇ℎ𝑖𝑠 𝑝𝑟𝑜𝑗𝑒𝑐𝑡 𝑖𝑠 𝑓𝑖𝑛𝑎𝑛𝑐𝑒𝑑 𝑏𝑦 𝑡ℎ𝑒 𝑀𝑖𝑛𝑖𝑠𝑡𝑟𝑦 𝑜𝑓 𝐶𝑢𝑙𝑡𝑢𝑟𝑒 𝑎𝑛𝑑 𝑐𝑜-𝑓𝑖𝑛𝑎𝑛𝑐𝑒𝑑 𝑏𝑦 𝑡ℎ𝑒 𝑀𝑢𝑛𝑖𝑐𝑖𝑝𝑎𝑙𝑖𝑡𝑦 𝑜𝑓 𝑇𝑖𝑚𝑖𝑠̦𝑜𝑎𝑟𝑎 𝑡ℎ𝑟𝑜𝑢𝑔ℎ 𝑡ℎ𝑒 𝐶𝑒𝑛𝑡𝑒𝑟 𝑓𝑜𝑟 𝑃𝑟𝑜𝑗𝑒𝑐𝑡𝑠.