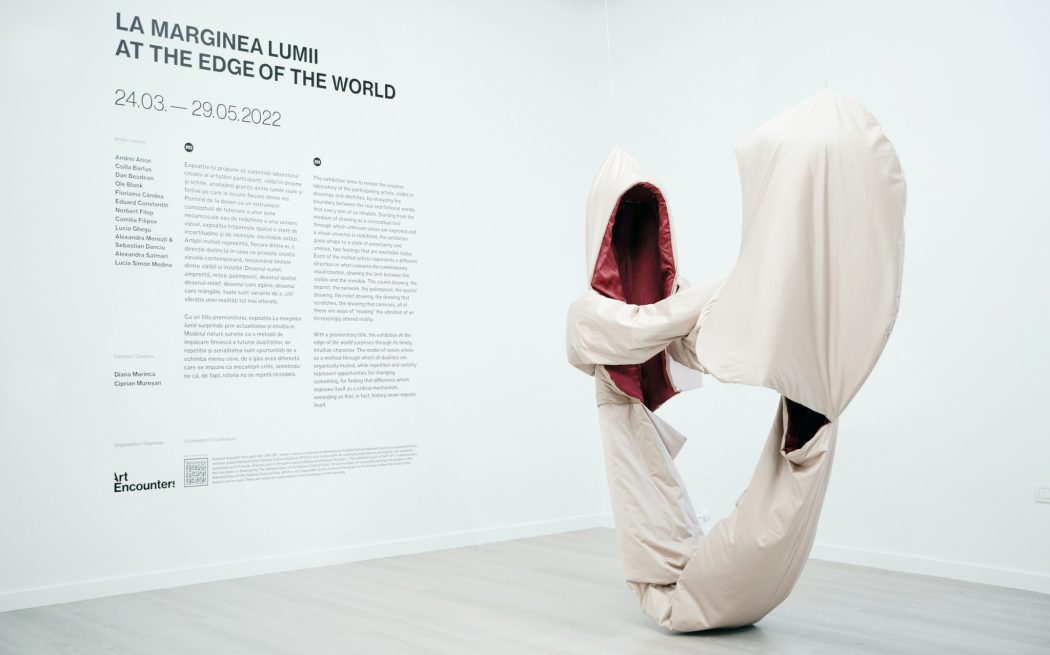 Sunday, May 29th, we invite you to the final guided tour of the exhibition AT THE EDGE OF THE WORLD, led by Gavril Pop
The exhibition is co-curated by Diana Marincu, the Artistic Director of the Foundation, and by artist Ciprian Mureșan.
The exhibition AT THE EDGE OF THE WORLD aims to capture the creative laboratory of the participating artists, visible in drawings and sketches, analyzing the threshold between real and fictional worlds each of us inhabit. Starting from drawing as a conceptual instrument for exploration of unknown areas, or of redefining a visual universe, the exhibition offers a spatial manifestation to a state of incertitude and unease, which are inevitable nowadays. The invited artists represent, each and every one of them, a distinct direction concerning contemporary visual creation, placing the limits between the visible and the invisible under tension. Sound-drawing, fingerprint, network, palimpsest, spatial drawing, relief-drawing, scratching drawing, caressing drawing, all are variants of "reading" the vibrations of an increasingly altered reality.
With a premonitory title, the exhibition "At the edge of the world" surprises with its topical nature and its intuition. The model of nature occurs as an innate method of harmonizing all dualities, while repetition and serialism are opportunities of always changing something, of finding that difference which establishes itself as a critical mechanism, reminding us that, in fact, history never repeats.
The exhibition is comprised of works created by Andrei Arion, Csilla Bartus, Dan Beudean, Ole Blank, Floriama Cândea, Eduard Constantin, Norbert Filep, Camilia Filipov, Lucia Ghegu, Alexandra Mereuți & Sebastian Danciu, Alexandra Satmari and Lucía Simón Medina.
Although anti-COVID restrictions have been lifted, we recommend wearing a safety mask and maintaining a social distance of 1.5m from other people.
The exhibition AT THE EDGE OF THE WORLD is part of ART-UP, a cultural project co-financed by the Administration of the National Cultural Fund.
Organizer: Art Encounters Foundation
Co-financer: Administration of the National Cultural Fund
Sponsors: ISHO, Thesaurus, Illy
Media partners: TVR Timișoara, Radio Romania Cultural, RFI Romania, Observator Cultural, Zeppelin, Modernism, Arta Magazine, The Institute, Propagarta, StudentFest
Graphic Design: Flavia Țună
Collaborators: Andra Dascălu, Carmen Nicolau, Maria Orosan Telea, Teo Papadopol, Gavril Pop, Plan B Gallery, Sector 1 Gallery, Sabot Gallery
Photo credits: Robert Floria