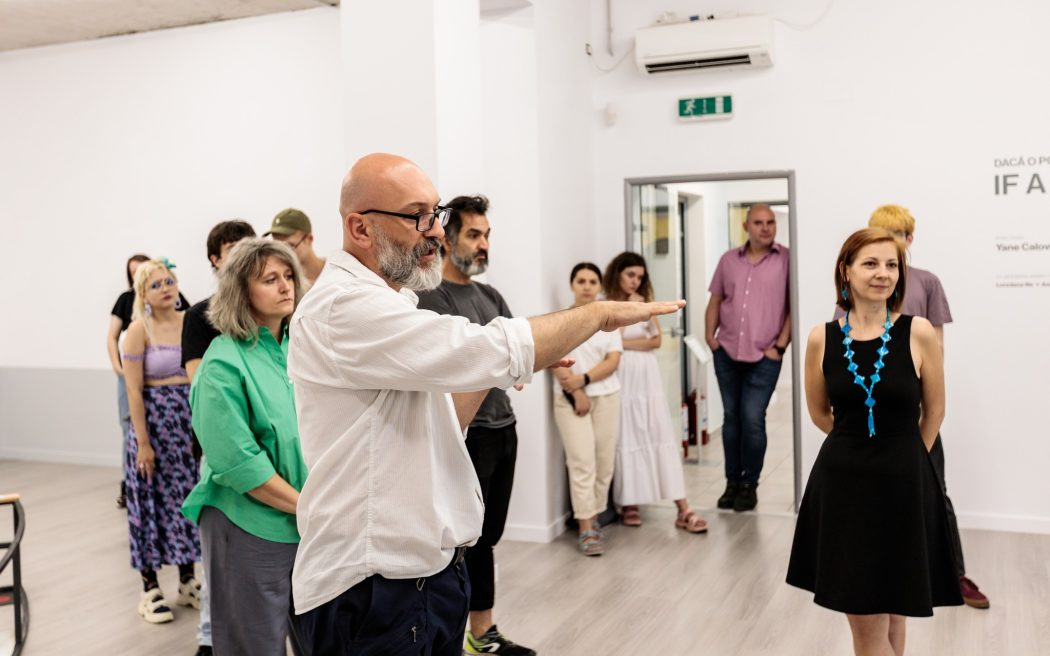 We kindly invite you on Saturday, September 3, between 5 PM – 6:30 PM, to the closing event of the exhibition "If a story is present," the first in Romania dedicated to the renowned Macedonian artists Yane Calovski and Hristina Ivanoska. The show was built around a nucleus of works developed over the earlier five years concerning the Open Form theory, one of the most experimental approaches to art and architecture conceived by Polish architect Oskar Hansen.
Curated by Diana Marincu, the exhibition "If a story is present" has brought together eight young artists from Timisoara, mentored by Calovski and Ivanoska and invited to produce a collective installation: Loredana Ilie, Andreea Ioniță, Ana Kun, Bogdan Matei, Teo Papadopol, Gavril Pop, Ioana Terheș and Mihai Toth.
Joining us at Saturday's event will be curator Anders Kreuger, Director of Kohta, a private Kunsthalle in Helsinki. Our special guest was chief curator of the M HKA (Museum of Contemporary Art Antwerp) for eight years and a member of the editorial board of the art magazine Afterall in London (2012–2018). We are glad to have Anders Kreuger with us for the exhibition's final event!
On Saturday, September 3, we welcome you to the closing of an exhibition that that brought us much joy!
---
This project is part of the Timișoara 2023 – European Capital of Culture Programme and is financed by the Timișoara Municipality through the Project Centre.
This exhibition is part of ART-UP, a cultural project co-financed by The Administration of the National Cultural Fund. The project does not necessarily represent the position of The Administration of the National Cultural Fund. AFCN is not responsible for the project's content or for how the project's results can be used. These aspects are wholly the responsibility of the grant beneficiary.