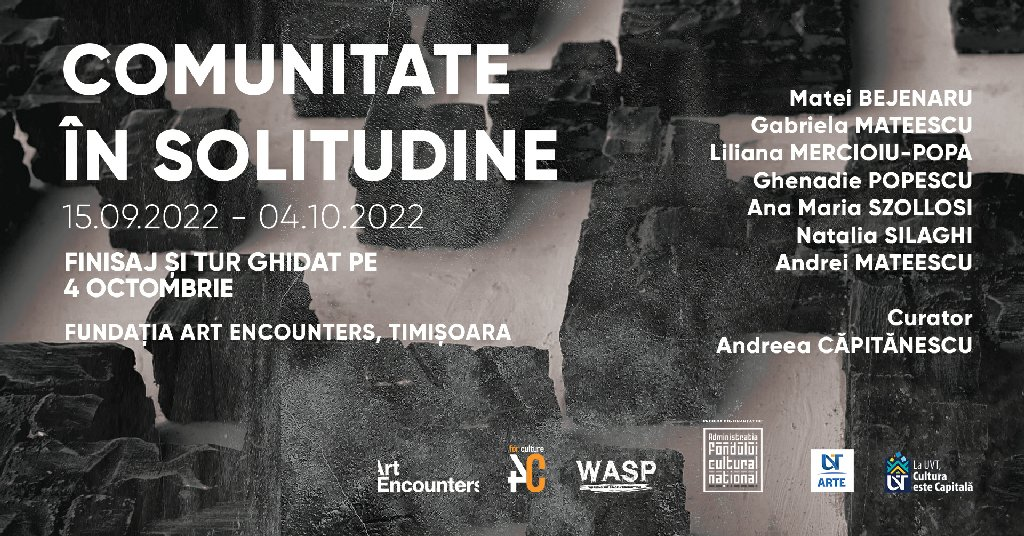 Community in solitude – exhibition presented in partnership with the Art Encounters Foundation
Artists: Matei Bejenaru, Gabriela Mateescu, Andrei Mateescu, Liliana Mercioiu-Popa, Ghenadie Popescu, Ana Maria Szollosi, Natalia Silaghi
Curator: Andreea Căpitănescu
Closing: October 4th, 07:00 PM
Guided tour by artists Liliana Mercioiu-Popa, Ana Maria Szollosi, Natalia Silaghi
Art Encounters Foundation, Take Ionescu 46C, Timișoara
We invite you to the Art Encounters Foundation headquarters in Timișoara, Tuesday at 07:00 PM, at the closing of the "Community in solitude" exhibition, and the guided tour given by artists Liliana Mercioiu-Popa, Ana Maria Szollosi and Natalia Silaghi. Curated by Andreea Căpitănescu, the exhibition shows the works of artists: Matei Bejenaru, Gabriela Mateescu, Andrei Mateescu, Liliana Mercioiu-Popa, Ghenadie Popescu, Ana Maria Szollosi, Natalia Silaghi.
The "Community in Solitude" exhibition is part of the "Community in the time of division" project, with a central theme concerning solitude and new forms of togetherness. Faced with forced isolation and as an immediate response to open aggression, the invited artists develop physical and virtual meeting spaces, spaces for dialogue, rebellion and reflection. The exhibited works call to mind a specific time and environment, which shaped our collective and individual social existence, altering emotional and artistic expressiveness, which is often replaced with anxiety and fear.
The participating artists within this exhibition use their creations to capture their involvement in several social microcosms, achieving a subjective analysis of the role of artistic/non-artistic communities within the "COVID 19" crisis and the crises sparked by recent conflicts.
The "Community in the time of division" project aims to develop a support network for mobility projects, research, creation and artistic promotion in the field of visual arts. Involving artists, cultural organizations and institutions from Bucharest, Timișoara, Iași and Chișinău, the project seeks to articulate new strategies for facilitating access to contemporary art creation, through cooperation and co-production activities.