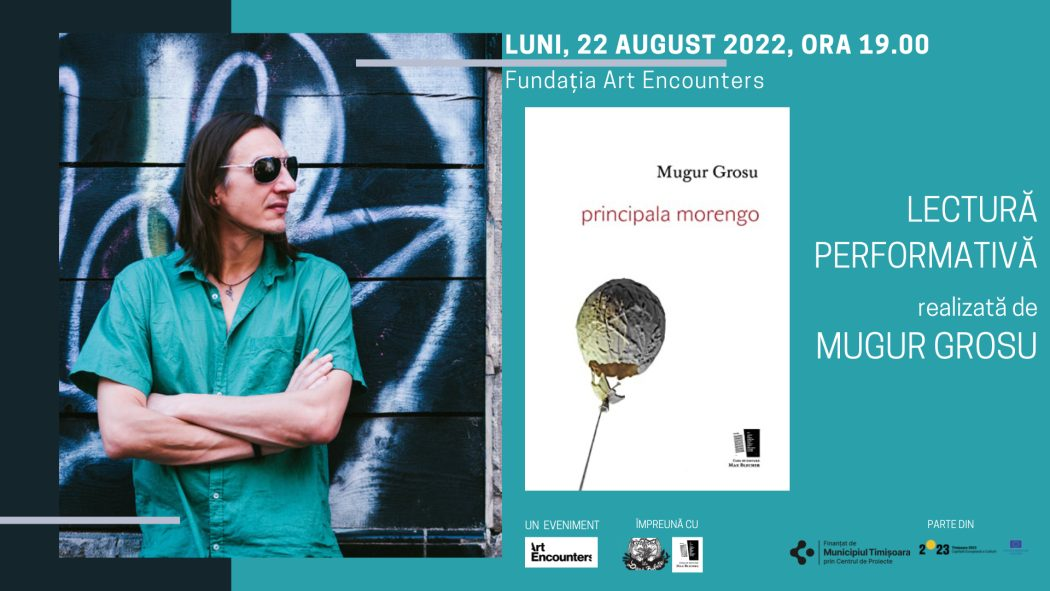 We await you on Monday, August 22nd 2022, at 7PM sharp, at the Art Encounters Foundation (46C, Take Ionescu Boulevard, Timișoara), where the exhibition space becomes the stage for a performative reading at the threshold between theatre, literature and visual art.

Conceived as an episode in a series of interdisciplinary experiments, this event proposes a different, personal, temporal and spatial incursion into the poetic space of Mugur Grosu, from his most recent poetry volume, "principala morengo", published by the Max Blecher Publishing House, which will be launched in Timișoara on August 20th, at the Două Bufnițe Bookstore. The performative reading will be undertaken by Mugur Grosu – poet, performer, publicist, and graphic artist.
Author biography:
Mugur Grosu (b. 1973, Constanța) was a founding member of the Tuesday Cenacle and of the ASALT Association. Poet, performer, publicist and graphic artist, former editor of the "Tomis" magazine, Grosu published the poetry volumes Dumbbell with bells (2001) and Grossomodo (2011), a book of journalistic writings, Slaughterhouse (2006) and three experimental volumes – "sms: they breathe and make love like butterflies" (2006), "press/the 43 trolley hung itself with its bathrobe belt" (2007) and "status" (2013).
About "principala morengo":
Mugur Grosu comes back, ten years after "Grossomodo" and twenty years after his debut volume for Pontica Publishing, "Dumbbell with bells", and it's a grandiose comeback: "principala morengo" is comprised of sixty four poems, divided in three cycles, [yellow], [red] and [black].
The book is illustrated by twelve artists (plus Grosu himself), each with a small work/intervention, which enters a dialogue with the poetic project in "principala morengo":
Miguel Platero, Adrian Preda, Dumitru Gorzo, Ștefan Ungureanu, Gili Mocanu, Giuliano Nardin, Paula Muñoz Zygmunt, Lumi Mihai, Daniel Bălănescu, Ion Barbu, Dan Perjovschi, Nicolae Comănescu, Tomagraph
The event is organized by the Art Encounters Foundation, together with the Două Bufnițe Bookstore and the Max Blecher Publishing House. The event is co-financed by the Centre for Projects of the City of Timișoara.