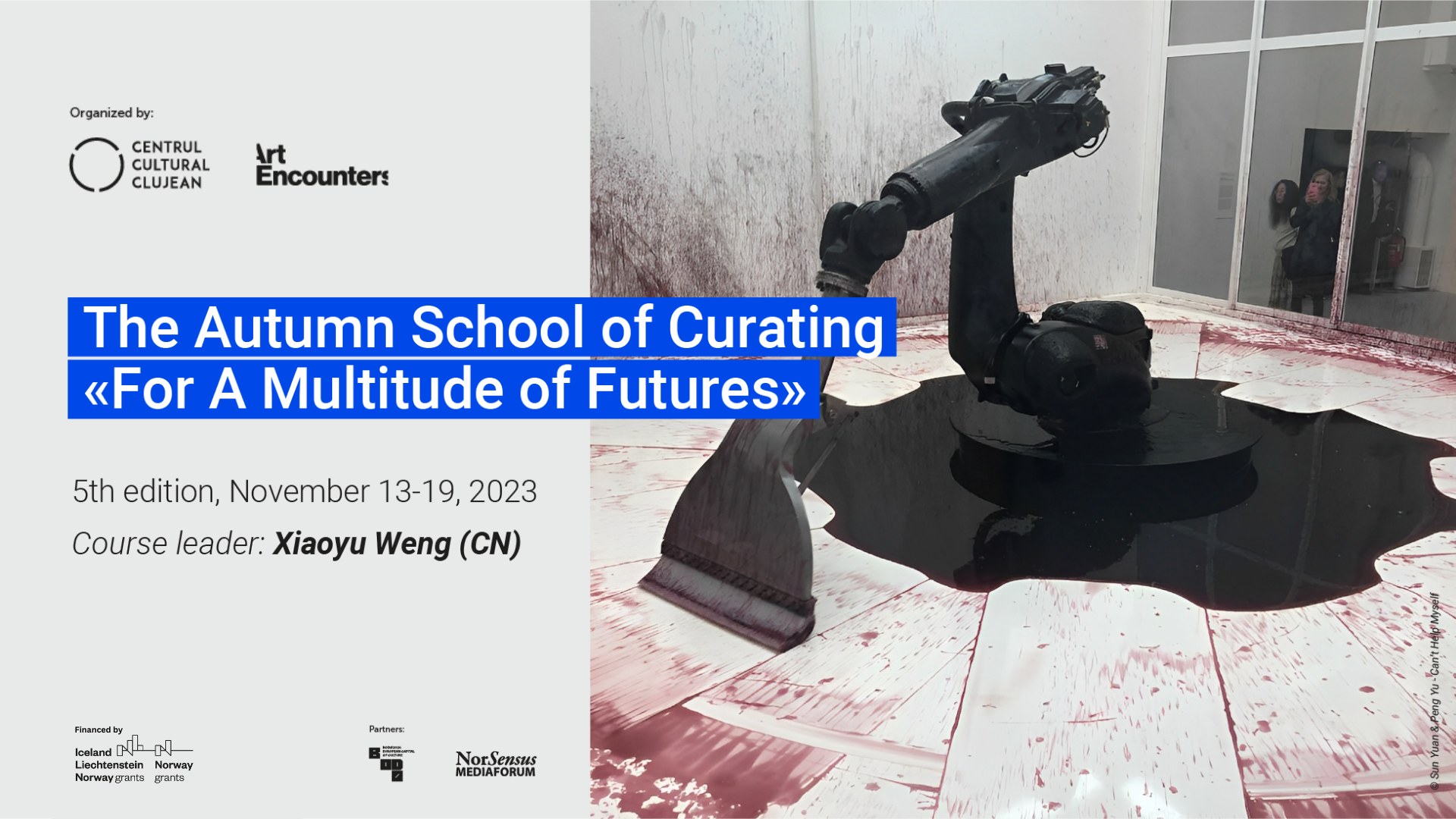 The Autumn School of Curating is an engaging seven-day seminar led by Xiaoyu Weng, exploring the cutting-edge realm of today´s curatorial practices.
The seminar aims to give young curators access to an international platform for dialogue, knowledge exchange and learning. Titled "𝐅𝐨𝐫 𝐚 𝐌𝐮𝐥𝐭𝐢𝐭𝐮𝐝𝐞 𝐨𝐟 𝐅𝐮𝐭𝐮𝐫𝐞𝐬", the seminar will be a collective week of exploration, inquiry and innovation as we delve into the intricate interplay between determinist thinking, technology, artificial intelligence, and their profound impact on the world.
This year's edition takes place between 𝐍𝐨𝐯𝐞𝐦𝐛𝐞𝐫 𝟏𝟑-𝟏𝟗, 𝟐𝟎𝟐𝟑 in 𝐂𝐥𝐮𝐣-𝐍𝐚𝐩𝐨𝐜𝐚 𝐚𝐧𝐝 𝐓𝐢𝐦𝐢𝐬̦𝐨𝐚𝐫𝐚, and it includes working sessions and public talks, as well as meetings and lectures with artists, curators and other guests, studio visits and exhibition tours in the hosting cities.
𝗧𝗵𝗲 𝘀𝗲𝗺𝗶𝗻𝗮𝗿 𝗶𝘀 𝗳𝗿𝗲𝗲 𝗼𝗳 𝗰𝗵𝗮𝗿𝗴𝗲 𝗮𝗻𝗱 𝗼𝗽𝗲𝗻 𝘁𝗼 𝗶𝗻𝘁𝗲𝗿𝗻𝗮𝘁𝗶𝗼𝗻𝗮𝗹 𝗰𝗮𝗻𝗱𝗶𝗱𝗮𝘁𝗲𝘀.
𝗧𝗵𝗲 𝗰𝗼𝘂𝗿𝘀𝗲𝘀 𝘄𝗶𝗹𝗹 𝗯𝗲 𝗵𝗲𝗹𝗱 𝗶𝗻 𝗘𝗻𝗴𝗹𝗶𝘀𝗵.
𝐀𝐛𝐨𝐮𝐭 𝐭𝐡𝐞 𝐥𝐞𝐚𝐝𝐞𝐫
Weng Xiaoyu is a curator and writer based in New York. Her curatorial and writing practices focus on the impact of globalization, identity, and decolonization, as well as the intersection of art, science, and technology. Most recently, she was the Carol and Morton Rapp Curator, and head of Modern and Contemporary Art at the Art Gallery of Ontario (AGO) in Toronto, Canada. Previously, she was The Robert H. N. Ho Family Foundation Associate Curator at the Solomon R. Guggenheim Museum in New York, where she curated highly acclaimed exhibitions Tales of Our Time (2016–17) and One Hand Clapping (2018).
More on: https://academiaschimbarii.ro/…/the-autumn-school-of…/
———————-
𝑇ℎ𝑒 𝐴𝑢𝑡𝑢𝑚𝑛 𝑆𝑐ℎ𝑜𝑜𝑙 𝑜𝑓 𝐶𝑢𝑟𝑎𝑡𝑖𝑛𝑔 𝑖𝑠 𝑜𝑟𝑔𝑎𝑛𝑖𝑧𝑒𝑑 𝑏𝑦 𝐶𝑙𝑢𝑗 𝐶𝑢𝑙𝑡𝑢𝑟𝑎𝑙 𝐶𝑒𝑛𝑡𝑟𝑒 𝑖𝑛 𝑐𝑜𝑙𝑙𝑎𝑏𝑜𝑟𝑎𝑡𝑖𝑜𝑛 𝑤𝑖𝑡ℎ 𝐴𝑟𝑡 𝐸𝑛𝑐𝑜𝑢𝑛𝑡𝑒𝑟𝑠. 𝑇ℎ𝑒 𝑝𝑟𝑜𝑗𝑒𝑐𝑡 𝑖𝑠 𝑓𝑖𝑛𝑎𝑛𝑐𝑒𝑑 𝑏𝑦 𝑡ℎ𝑒 𝐸𝐸𝐴 𝑎𝑛𝑑 𝑁𝑜𝑟𝑤𝑒𝑔𝑖𝑎𝑛 𝑔𝑟𝑎𝑛𝑡𝑠.