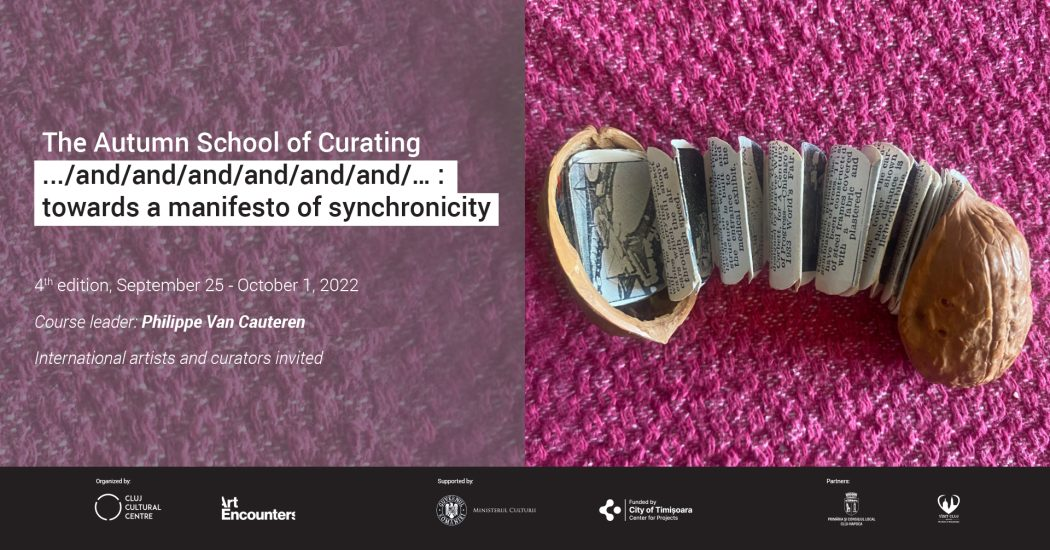 𝗧𝗵𝗲 𝗔𝘂𝘁𝘂𝗺𝗻 𝗦𝗰𝗵𝗼𝗼𝗹 𝗼𝗳 𝗖𝘂𝗿𝗮𝘁𝗶𝗻𝗴 is an engaging seven-day seminar led by curator Philippe Van Cauteren (artistic director of S.M.A.K. Ghent), which aims to give young curators access to an international platform for dialogue, knowledge exchange, and learning.
Titled …/𝗮𝗻𝗱/𝗮𝗻𝗱/𝗮𝗻𝗱/𝗮𝗻𝗱/𝗮𝗻𝗱/𝗮𝗻𝗱/…: 𝘁𝗼𝘄𝗮𝗿𝗱𝘀 𝗮 𝗺𝗮𝗻𝗶𝗳𝗲𝘀𝘁𝗼 𝗼𝗳 𝘀𝘆𝗻𝗰𝗵𝗿𝗼𝗻𝗶𝗰𝗶𝘁𝘆, this year's edition will be a collective experience in which, through talks and discussions, we'll construct the manifesto of synchronicity, a tool for action, a first chapter for different (plural) ways of thinking.
The Autumn School of Curating is organized by Cluj Cultural Centre in collaboration with Art Encounters and will take place between
𝐒𝐞𝐩𝐭𝐞𝐦𝐛𝐞𝐫 𝟐𝟓 – 𝐎𝐜𝐭𝐨𝐛𝐞𝐫 𝟏, 𝟐𝟎𝟐𝟐, both in Cluj-Napoca and Timișoara.
𝗧𝗵𝗲 𝘀𝗲𝗺𝗶𝗻𝗮𝗿 𝗶𝘀 𝗳𝗿𝗲𝗲 𝗼𝗳 𝗰𝗵𝗮𝗿𝗴𝗲 𝗮𝗻𝗱 𝗼𝗽𝗲𝗻 𝘁𝗼 𝗶𝗻𝘁𝗲𝗿𝗻𝗮𝘁𝗶𝗼𝗻𝗮𝗹 𝗰𝗮𝗻𝗱𝗶𝗱𝗮𝘁𝗲𝘀.
This year's edition includes working sessions and public talks, as well as meetings and lectures with artists, curators and other guests, studio visits and exhibition tours in the hosting cities.
The courses will be held in English.
𝗔𝗯𝗼𝘂𝘁 𝗣𝗵𝗶𝗹𝗶𝗽𝗽𝗲 𝗩𝗮𝗻 𝗖𝗮𝘂𝘁𝗲𝗿𝗲𝗻
Philippe Van Cauteren is the artistic director of S.M.A.K. (Museum for Contemporary Art, Ghent, Belgium). He studied sociology and art history at the University of Ghent. For the 55th edition of the Venice Biennale, he co-curated the exhibition 'Cripplewood' with the work of Berlinde De Bruyckere for the Belgian Pavilion. In 2015 the Ruya Foundation commissioned him to curate the Iraqi Pavilion for the 56th Venice Biennale. At the invitation of the Siddartha Arts Foundation, he curated the exhibition 'My City, My Studio / My City, My Life' for the Kathmandu Triennial in 2017. In the same year, he made an exhibition with a selection from the Barjeel Art Collection for the Institut du Monde Arabe in Paris. Philippe Van Cauteren published the book 'Letters to Artists' – a compilation of letters he has been writing to artists for the past 15 years.
𝗥𝗲𝗮𝗱 𝗺𝗼𝗿𝗲 𝗮𝗯𝗼𝘂𝘁 𝘁𝗵𝗶𝘀 𝘆𝗲𝗮𝗿'𝘀 𝗲𝗱𝗶𝘁𝗶𝗼𝗻 𝗮𝗻𝗱 𝗮𝗽𝗽𝗹𝘆 𝗯𝗲𝗳𝗼𝗿𝗲 𝗦𝗲𝗽𝘁𝗲𝗺𝗯𝗲𝗿 𝟮, 𝟮𝟬𝟮𝟮 – https://ecca.ro/the-autumn-school-of-curating-4th-edition/.
For the programme in Cluj, we can provide accommodation in student dormitories thanks to a partnership with Babeș-Bolyai University. Check our website for more details.
𝘛𝘩𝘪𝘴 𝘱𝘳𝘰𝘫𝘦𝘤𝘵 𝘪𝘴 𝘧𝘪𝘯𝘢𝘯𝘤𝘦𝘥 𝘣𝘺 𝘵𝘩𝘦 𝘔𝘪𝘯𝘪𝘴𝘵𝘳𝘺 𝘰𝘧 𝘊𝘶𝘭𝘵𝘶𝘳𝘦 𝘢𝘯𝘥 𝘤𝘰-𝘧𝘪𝘯𝘢𝘯𝘤𝘦𝘥 𝘣𝘺 𝘵𝘩𝘦 𝘔𝘶𝘯𝘪𝘤𝘪𝘱𝘢𝘭𝘪𝘵𝘺 𝘰𝘧 𝘛𝘪𝘮𝘪𝘴̦𝘰𝘢𝘳𝘢 𝘵𝘩𝘳𝘰𝘶𝘨𝘩 𝘵𝘩𝘦 𝘊𝘦𝘯𝘵𝘦𝘳 𝘧𝘰𝘳 𝘗𝘳𝘰𝘫𝘦𝘤𝘵𝘴.