With Raluca Croitoru
Tuesday, 11:00 – 13:30
October 6, 13, 20 and 27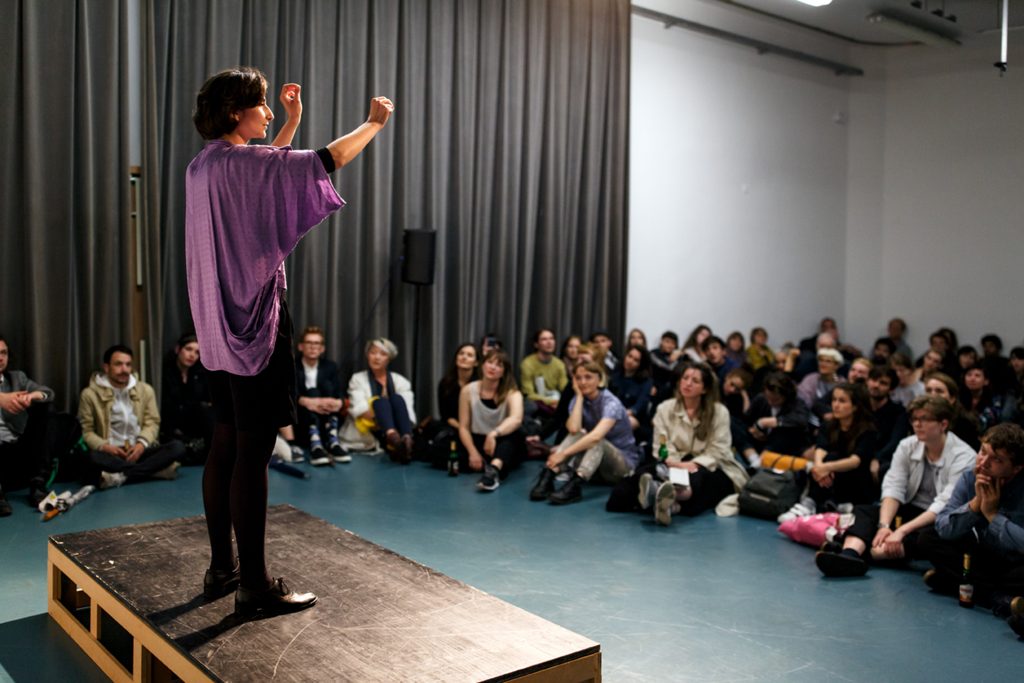 The course proposes a varied set of theoretical and methodological instruments for exploring different forms of performative practices. During the course, we will identify, contextualize and analyze various performative strategies and we will draw new possible directions of research and creation.
The course modules will focus on important elements of performative practice, such as corporality, performativity, context specificity and audience. We will approach the subject of documenting the performance practice, asking ourselves what happens to a performance after it took place live and we will think about ways of presentation and representation.
The concepts will be introduced and understood starting from examples of artistic practices, short fragments of text (sometimes in Romanian, sometimes in English) and group discussions. We will make room for our own artistic curiosities through short presentations of personal areas of interest and research. We will access the imagination and sensory perception through performative exercises and experiments materialized through writing, movement and active listening.
Raluca Croitoru is an artist originally from Constanța, currently based in Rotterdam. Her artistic practice merges multidisciplinary approaches from the fields of fine art, choreography and performance. She is a graduate of the MA program at the Piet Zwart Institute in Rotterdam and the BA program at the National University of Arts in Bucharest, Photography and Video department.
Between 2016 and 2019 Raluca collaboratively curated the independent art space ONONO in Rotterdam. In 2018 she co-created palier.ro, a project which aims to increase the visibility of the remaining repair workshops of Bucharest. Her works have been presented at Time-Based Art Festival, Portland; Art in General, New York; Skånes Konstförening, Malmö; National Museum of Contemporary Art, Bucharest; Yellow Brick, Athens; Art Encounters Biennial, Timișoara; W139, Amsterdam.