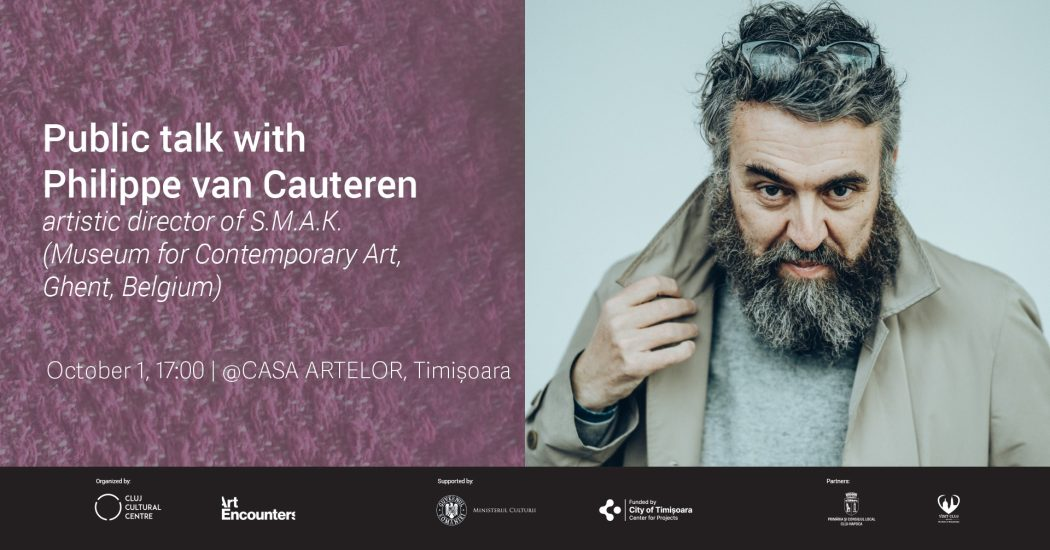 On Saturday, October 1, between 5 PM-7 PM, we kindly invite everyone to the House of Arts for a unique event in Timișoara!
The prestigious Belgian curator Philippe Van Cauteren, artistic director of S.M.A.K. (Municipal Museum of Contemporary Art in Ghent), will present, together with the young participating curators of the Autumn School of Curating, the results of an intense week of work on the theme of the Manifesto of Synchronicity
Participation is free of charge.
The event will be held in English.
The 4th edition of The Autumn School of Curating is co-organized by the Cluj Cultural Center through ECCA (European Centre for Contemporary Art) and the Art Encounters Foundation.
𝐏𝐇𝐈𝐋𝐈𝐏𝐏𝐄 𝐕𝐀𝐍 𝐂𝐀𝐔𝐓𝐄𝐑𝐄𝐍 is the artistic director of S.M.A.K. (Ghent, Belgium). He studied sociology and art history at the University of Ghent. For the 55th edition of the Venice Biennale, he co-curated the exhibition "Cripplewood" with the work of Berlinde De Bruyckere for the Belgian Pavilion. In 2015, the Ruya Foundation commissioned him to curate the Iraqi Pavilion for the 56th Venice Biennale. In 2017, at the invitation of the Siddartha Arts Foundation, he curated the exhibition 'My City, My Studio / My City, My Life' for the Kathmandu Triennial. During the same year, he made an exhibition with a selection from the Barjeel Art Collection for the Institut du Monde Arabe in Paris. In addition, Philippe Van Cauteren published the book 𝑳𝒆𝒕𝒕𝒆𝒓𝒔 𝒕𝒐 𝑨𝒓𝒕𝒊𝒔𝒕𝒔 – a compilation of letters he wrote to various artists over the years.
---
The Autumn School of Curating is a project financed by the Ministry of Culture and co-financed by the Municipality of Timișoara through the Center for Projects.