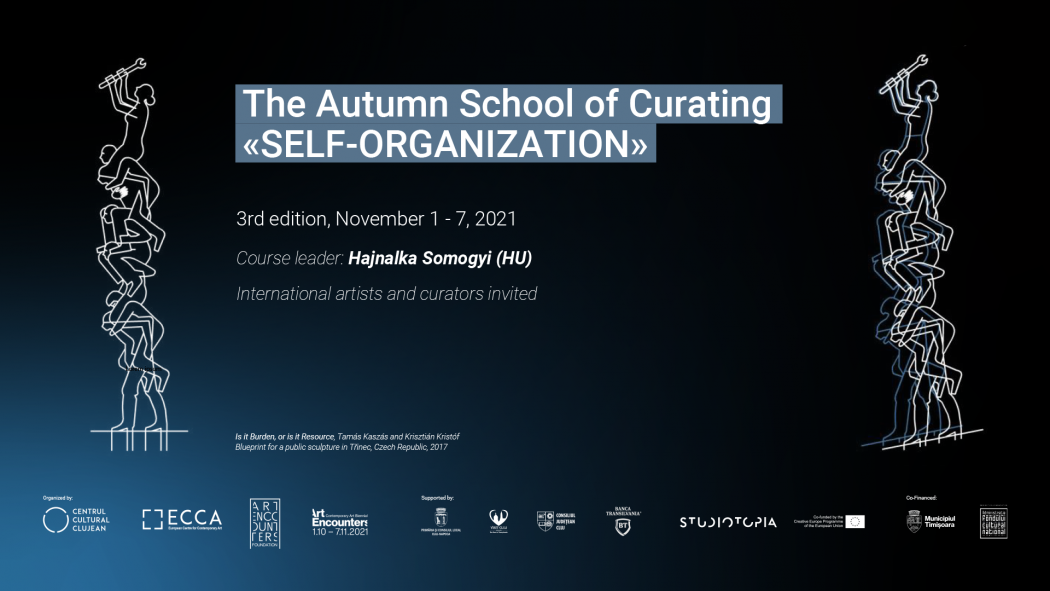 The Autumn School of Curating 3rd edition «SELF – ORGANIZATION» (Cluj-Napoca and Timișoara)
Course leader: Hajnalka Somogyi (HU)
Art Encounters Foundation Timișoara and ECCA – The European Centre for Contemporary Art Cluj-Napoca are looking for participants for the 3rd edition of The Autumn School of Curating, taking place in Cluj and Timișoara between 31 October – 7 November, 2021.
The Autumn School of Curating is an engaging eight-day seminar led by curator Hajnalka Somogyi, aiming to give young curators access to an international platform for dialogue, knowledge exchange and learning. Over the course of eight days, the participants will be immersed in the artistic context that both cities have to offer, marking the closing weekend of the Art Encounters Biennial. They will participate in activities and conversations with international artists and curators on the theme of SELF-ORGANISATION as a proactive form of institutional critique.
"Self-organized initiatives present not only art but also an operative model that reflects the ideas and values the founding group consensually, or, at any given moment, antagonistically stands for. Even though these groups or platforms are commonly perceived as being created and maintained in opposition to standard institutional policies and practices (as they indeed mostly are), challenging the status quo, one should also understand the complex net of interdependencies that exist between institutions, the market and self-organized initiatives, and recognize the potential of long-term strategic alliances formed by the latter group". (Hajnalka Somogyi)
---
The two organisers – an institution in the making (ECCA) and an independent cultural initiative (Art Encounters Foundation) – propose a collaborative mode of working and an exploratory approach to a variety of operating models. The theme of this year's curatorial school expresses our common interest in the complex dynamics between institutions and self-organized initiatives.
"In an environment of decreasing confidence in art institutions, both in the East and the West, institutional critique sometimes takes a proactive or projective form, that of self-organization. Of course, self-organization is older than institutions themselves: substantially bottom-up, it constitutes the gathering of a certain number of individuals around a set of common interests and goals that they decided to act upon. Thus, it makes an absence in the art establishment explicit: an absence of possibilities, discourses, practices, forms, values.
More often than not, the how is as important as the what, if not more so: self-organized initiatives typically operate in flat hierarchies and experiment with commonist, non-extractionist models, challenging traditional capitalist organizational and economic structures. To self-organize is to create a common, open space of expression, exchange and production that is self-regulated and self-governed. […]
It is also necessary to speak about the dangerous tenuity of the line between the freedom and self-empowerment that participation in such structures promises, on the one hand, and self-exploitation and precarity that serving them demands, on the other." (Hajnalka Somogyi)
Read here the whole context-argument of the The Autumn School of Curating 3rd edition SELF – ORGANIZATION, written by Course leader: Hajnalka Somogyi (HU).
---
Course Leader
Hajnalka Somogyi (HU) is a curator based in Budapest. Since 2014, she has worked as leader and co-curator of OFF-Biennale Budapest, which she initiated. In 2013-2014, she was editor of artmagazin.hu. Between 2009 and 2012 she was curator at Ludwig Museum of Contemporary Art, Budapest, and between 2001 and 2006 at Trafo House of Contemporary Arts, Budapest. She co-founded the independent art initiatives Dinamo and Impex, both in Budapest.
Invited speakers and conversation partners for the Autumn School of Curating:
Răzvan Anton
Matthias Einhoff
Mihai Iepure-Górski
Anne Szefer Karlsen
Diana Marincu
Mihnea Mircan
Adrian Notz
Magda Radu
Farid Rakun
Kasia Redzisz
The Autumn School of Curating is free of charge and open to international candidates.
---
About the organizers
Art Encounters Foundation is an independent cultural initiative, founded in 2015, oriented towards supporting the contemporary art scene in Romania. The Foundation's activities follow three main directions: organizing the Art Encounters Biennial and the permanent exhibitions program, fostering education and audience development through public programs and developing a solid series of artistic and curatorial residencies.
Cluj Cultural Centre is a non-governmental organization for culture and sustainable development, which believes that culture makes cities present and human. Their mission is to mobilize culture for social transformation and sustainable development. Part of Cluj Cultural Centre, The European Centre of Contemporary Art (ECCA) strives to discover and foster artistic ideas for the future, emerging from three areas of artistic and curatorial work: researching, learning and creating.
---
TARGET PARTICIPANTS:
Young professionals in the field of curating and writing, with at least 3 years' experience in the field
REGISTRATION PERIOD:
August 24 – September 14, 2021
The selected participants will be announced by September 20, 2021

---
HOW TO APPLY:
In order to apply please fill in this online form with your details (name, email, phone number), a motivation letter (5,000 characters maximum) and a narrative biography (4,000 characters maximum), stating your interest in the topic of the Autumn School of Curating.
The Autumn School of Curating is free of charge and open to international candidates. The courses will be held in English. Availability for the entire course is required. For any inquiries about the program, please write to us at school.curating@gmail.com